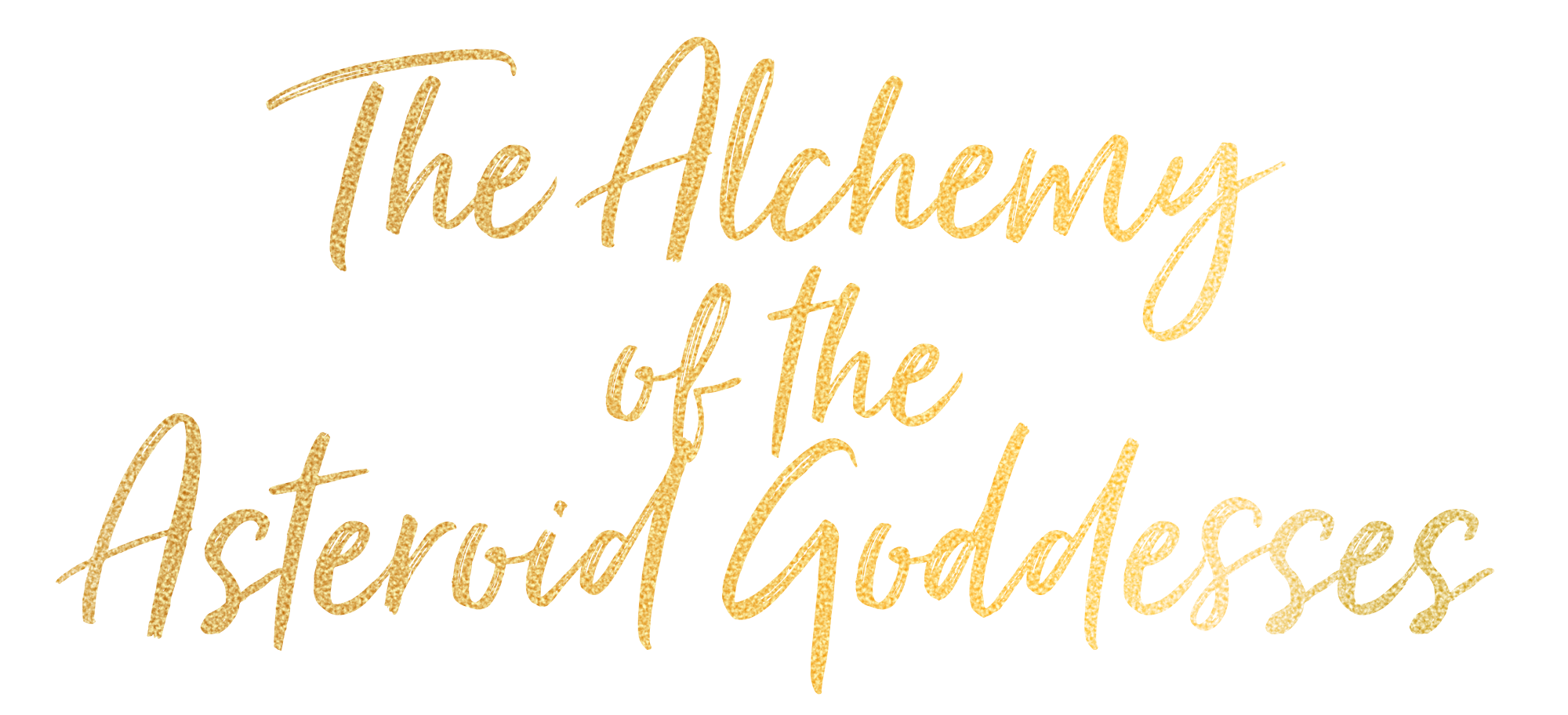 A Four Week Class Series
by Divine Harmony
Starting Wednesday September 20th Calling in the Divine Feminine…
In this new online course offering we will be exploring, understanding & embodying the Divine Feminine via the archetypes of the 4 Asteroid Goddesses: Ceres the Mother, Juno the Wife, Pallas Athena the Daughter & Vesta the Priestess.
This time on earth right now is a profound one of remembering, reawakening and reweaving the Divine Feminine back into balance with the Divine Masculine.  One of the ways to do this in Astrology is to include the 4 Asteroid Goddesses to bring balance to the masculine/feminine archetypes.



The Alchemy of the Asteroid Goddesses is a 4 week online course that deeply explores each of these Goddess archetypes.  We will look at both the modern and ancient myths of each facet of the Divine Feminine.  We will explore the alchemical stage they correspond to and work with the teachings offered.  And we will explore the Goddesses in their stage of Jungian Individuation they represent.   
The course includes somatic and shadow work practices to help support your integration and

embodiment

of each of the Goddess archetypes.  Each class also includes a Guided Meditation that is a personal journey with each Goddess.  
At the end of this course you will come away with a lot of information and knowledge (with detailed notes and cheat sheets!) and by doing the practices you will find a deeper integration and embodiment of the teachings.  This is how knowledge becomes wisdom and how the Divine Feminine becomes embodied!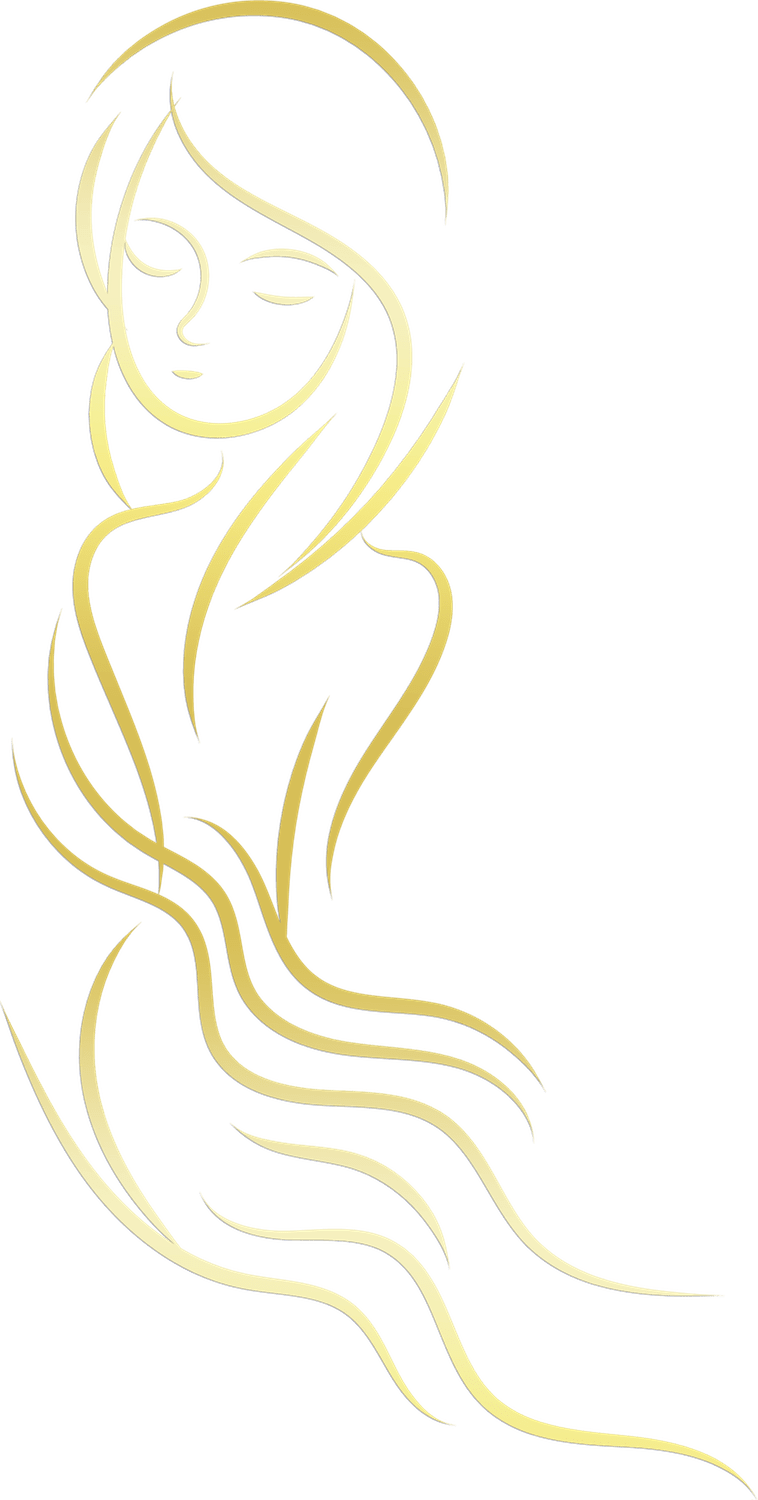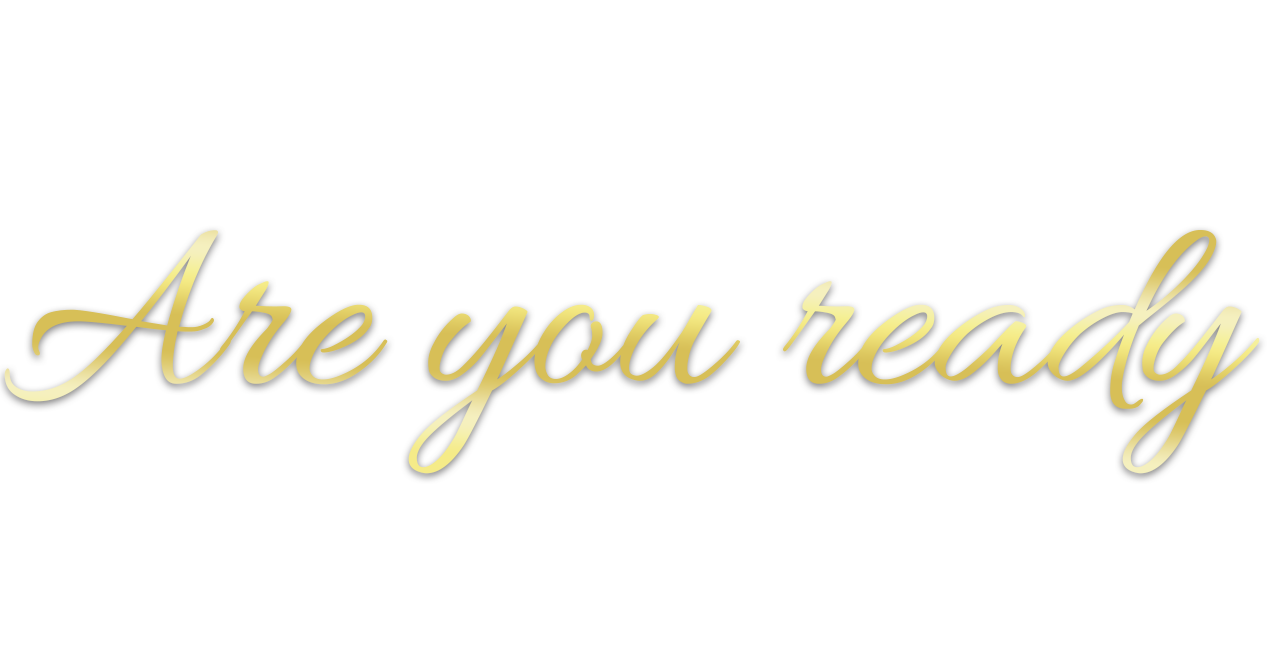 …to allow the Divine Feminine to lead?
Join me in this 4 week online class series starting Wednesday September 20th at 2-4pm Eastern Time/11am-1pm Pacific/7-9 UK.
If you cannot attend class live the replays will be posted in my Kajabi online classroom within 24 hours for you to watch or rewatch indefinitely.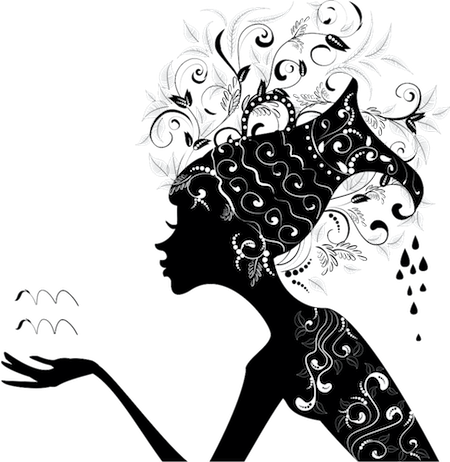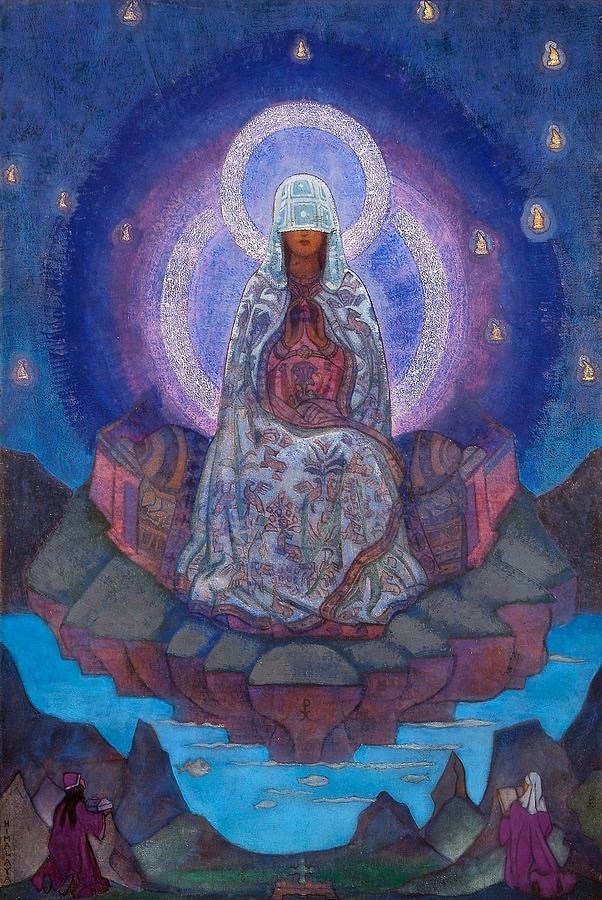 Image: Mother of the World by Nicholas Roerich
What is meant by 'the Divine Feminine' and how is the Divine Feminine applicable to your life and to our collective experience right now?
The modern Greek & Roman myths of the Asteroid Goddesses as well as the more ancient matriarchal myths that have been lost, forgotten and/or hidden over time.  
How to work with these Goddesses alchemically and depth psychologically for personal healing and transformation.  
How to start adding them into your chart interpretation (including Cheat Sheets for placement by Sign/House/Aspect). 
What it means for the Feminine to lead and why it is imperative she does so for humanity's collective evolution.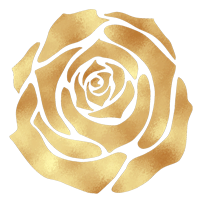 I have a very deep
devotion
to the Divine Feminine in all her manifestations.   I remember when I first got into Astrology I noticed that in the 10 main Planets/Luminaries only 2 are feminine- the Moon and Venus.  8 out of 10 of the Planetary
archetypes
had masculine energy.  This felt very imbalanced to me and so from very early on I was including the Divine Feminine archetypes in my writings, readings and teachings to help redress that balance.  
I am an initiated Priestess and devotee of the Divine Mother.  I have 2 Great Loves in my life- my daughter and the

Divine

Mother.  Becoming a mother most definitely impacted my connection to the Great Mother in profound ways.  It is my life's work and greatest passion to teach about the Divine Feminine and help people remember her and reconnect to her.  
I hope you will join me on this deep dive with the Goddess as She leads us more deeply into ourselves.
Blessings…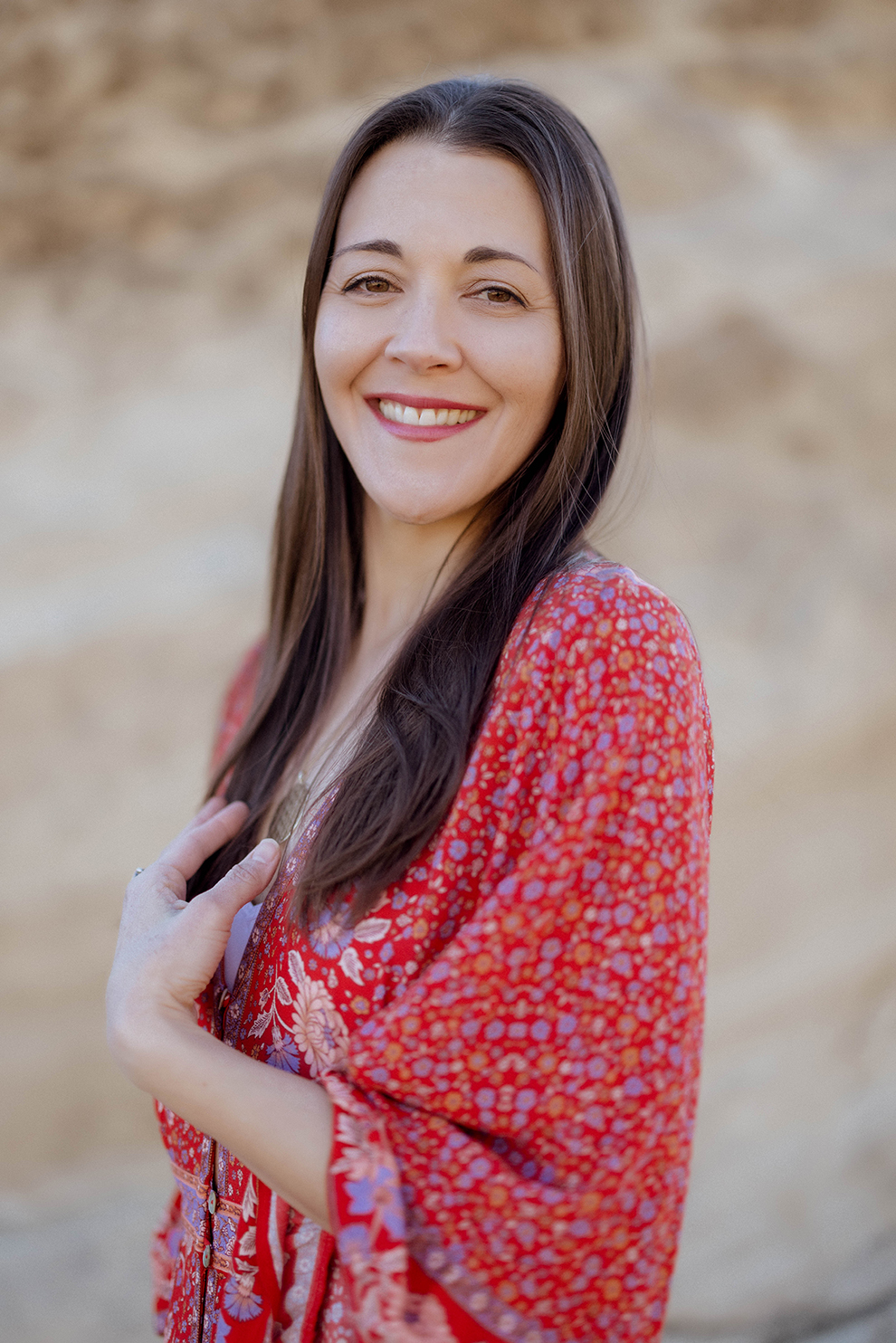 "Thank you Divine Harmony for your deep progressive work (with the Divine Feminine). It is so potent and the frequency is felt. Your teachings have dripped the feminine mysteries into my life like honey. I am grateful for you." ~ Sophia
"I highly recommend Harmony's classes for anyone looking to deepen their knowledge into their Shadow and The Feminine frequency that is ready to be birthed onto our Planet." ~ Sophie
"Thanks for being a consistent, integral, and true inspired voice in the astrology community and pure emissary of the stars." ~Chris
"You are a wonder to behold. A stream of knowledge and wisdom. A draught of the Grail of Inspiration." ~Franklin
"I hope that you realize the scope and brilliance of the work you do in bringing about the change our world so badly needs. Big hugs to you for all you are and all you do in the name of the Goddess." ~Meridith
"I find Harmony's teachings to be filled with so much truth sourced from the heart. She delivers a rich history or herstory, as she puts it, of the divine feminine. I am so excited to be here as we learn and uncover the veils together." ~ Jennifer
"I deeply appreciate your teachings and insights into the Divine feminine and your reframing of old stuck patriarchal patterns of understanding of the myths and sacred teaching of the cosmos to encapsulate the more rounded, balanced and empowering principles of the Divine feminine. Thank you for your service." ~ Carmel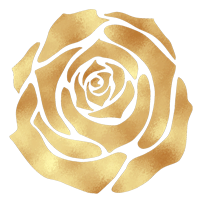 Course starts Wednesday September 20th and runs through Wednesday October 11th.
Full Schedule Details:
Classes held from 2-4pm Eastern Time/11am-1pm Pacific/7-9pm UK
DATES- September 20th & 27th, October 4th and 11th
All classes will be posted in the online classroom to view afterwards and are accessible indefinitely.

Is this course only for women?
No!  From a Jungian and Depth Psychological perspective we all have both masculine and feminine essence in us.  We have lived in a 5000+ year cycle of over-focusing on the masculine at the expense of the feminine.  So this course serves you in connecting with and rebalancing the Union of masculine and feminine within.  As such this course is for men, women and non-binary beings.  Anyone ready to deepen their relationship to the feminine is welcome.
What is an online course?
An online course is something you can do in the comfort of your own home.  You can watch class live or tune in afterwards if you cannot make it live due to scheduling.  
Do I need any special equipment?
You will need a computer with working audio (so you can hear me speak) and a good wifi connection.  In order to clearly see the powerpoint slides it is recommended to attend and/or watch class on a computer or ipad and not a smart phone (the screen will be too small to see clearly).  
What if I miss a Live Session?
If you miss a session do not worry! All classes are posted in the classroom portal within 24 hours of the class and are accessible to watch or rewatch indefinitely.
What are the dates and times for all the Sessions?
All classes are on Wednesdays and start at 2pm Eastern Time/11am Pacific/7pm UK time.  They will be approximately 2 hours long.  
DATES- September 20th & 27th, October 4th & 11th
How long do I have access to the replays?
The online clasroom portal for this course will be accessible indefinitely.  You can watch and rewatch all the videos as well as download all the PDF notes, cheat sheets and Guided Meditations as many times as you need to.
Is this class for beginners or for more advanced students of astrology?
This class is structured to meet you at your level.  If you are brand new to astrology or if you have been studying astrology for decades- this class can support you in deepening your relationship to the Divine Feminine.  With detailed notes and cheat sheets for placements by sign/house/aspect- you will get deep insight even if you do not know how to read a chart.  
If you are more advanced in your studies this course will support you in deepening your understanding of these archetypes by learning their more ancient history (herstory) as well as working with the archetypal energies somatically and psychologically.  This will help you to take your knowledge of the Asteroid Goddesses and transform it into embodied wisdom- moving from the head where we receive information and dropping down into the heart and belly where we integrate it and embody it.  
Do I need strong internet skills to take this course?
You need to know how to use a computer, navigate the user-friendly online classroom and log into zoom (if you are attending live), but other than that, no!
Is there a community page and/or Q&A?
The Q&A will be during the 2 hour class (at the end) and the community connection will be in the live class as well.  In the Kajabi online classroom you can comment under videos and connect with other classmates via the classroom as well.  
I am new to your work- is this the best first course to take with you?
With the exception of Foundations of Astrology & Intermediate Level One & Two which are linear and sequential- all my other courses and masterclasses are more like a circle or spiral and can be taken in any order you prefer.  For example Astrology & Your Shadow is the Underworld Spiral where you learn to see, face and integrate the Shadow.  Stargate Mystery School is all about the Heavens and Celestials Myths and so would be the Upperworld Spiral.  Embodied Astrology is about bringing Heaven down to Earth and is the Earth Spiral.  The Alchemy of the Asteroid Goddesses actually operates on all 3 levels as we will be working with teachings from above (the asteroids, the myths), below (shadow work practices) and within (somatic/integration practices).  
This course is the only course I am offering live right now- so if you like being in the live classroom space and connecting with the other students- then this may be the best one for you at this time.  
Ultimately it is recommended to choose what is calling to you right now- as that is your intuition guiding you :)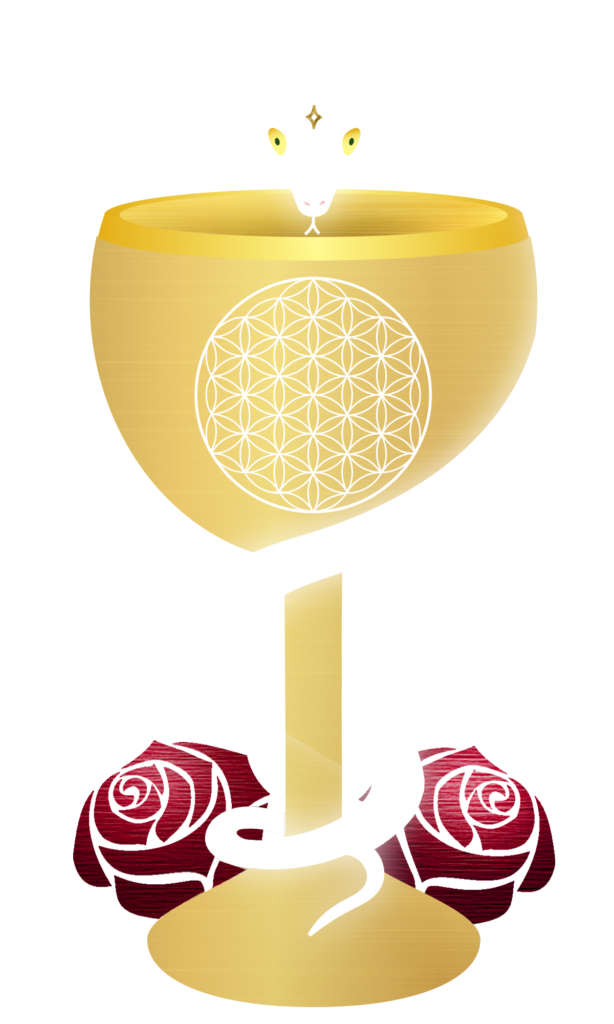 A 4 Week Class Series 
by Divine Harmony
Wednesdays @ 11am PDT/2pm EDT
September 20th & 27th, October 4th & 11th